Lately I have been getting more heavily involved with magfed setups and using them for both MFOG and Scenario events. I have used magfed setups for the past 10 years and have seen them improve significantly over the past few years.
I have my top pics for magfed setups listed below for both pistol and rifle configurations. I will also include some magfed adapters at the bottom so you can use your favorite setup in a magfed configuration.
My Top 5 MagFed Paintball Guns:
My Top MagFed Paintball Adapters:
Tippmann TiPX
The TiPX is Tippmann's magfed pistol platform and is an amazing platform. Loads of people have been using these as their sidearm of choice for magfed games and some even use them as their primary setup.
They are light weight, compact, and affordable with plenty of room for upgrades. There are plenty of mag options for them and use 7/8″ A5 threaded barrels. Plus, you can run them on both 12 gram CO2 or remote line configureations.
My only issue with this is the complexity of disassembly as it is a clamshell design and you have to hold everything together when removing the shells or springs may go flying.
Click here to check out Amazon for current prices.
Click here to check Ebay for great prices on used guns.
---
First Strike FSC
This is by far the most compact semi auto 68 cal paintball pistol on the market today. It can easily be holstered and added to most any milsim setup with ease and can take the standard T8/T9 mags in addition to the shorter and more compact FSC mags. Keep in mind, the stock FSC mags use 8 gram CO2 cartridges instead of the standard 12 gram CO2 cartridges used in the T8/T9 mags.
Click here to check out Amazon for current prices.
Click here to check Ebay for great prices on used guns.
Tippmann TMC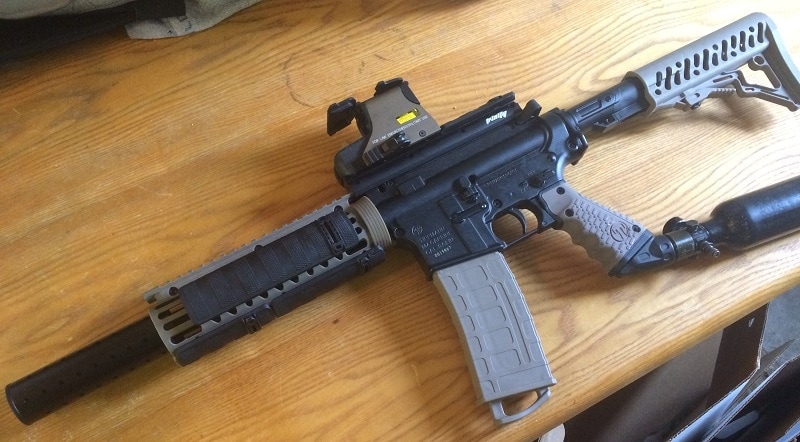 The TMC is a great paintball gun to jump into the magfed world with. It is super simple, very durable, and is a reliable platform that just keeps going. It uses the same internals as the durable 98 Custom and uses the reliable Tippmann mags.
Like most every other Tippmann on the market, it is highly upgradeable and have plenty of aftermarket parts on the market for them. You can even get the tank in stock upgrade kits for them as well!
The only issue with them is that it is not First Strike Round Ready and is roundball only. This isn't so much an issue as most players will use regular paintballs the majority of the time anyways.
Click here to check out Amazon for current prices.
Click here to check Ebay for great prices on used guns.
Planet Eclipse EMF100 (MG100)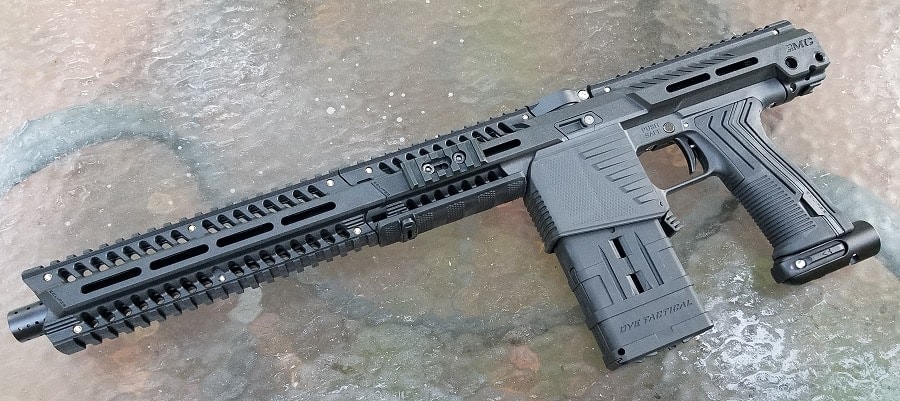 The Emek EMF100 is PE's first jump into the magfed world and they hit it out of the park! The EMF100 took all of the rugged and reliable characteristics of the Emek and Gtek paintball guns and slapped a magfed body on it.
It comes to you out of the box with a hoseless design, 14″ Shaft4 barrel, on/off ASA, picatinny rails, and the ability to shoot First Strike Rounds! I do highly recommend picking up PE's upgraded Dye mag followers as they not only support the paint and FSRs better, but also block the bolt when the mag is empty letting you know that your out of paint without broadcasting it to your opponents.
This is my primary FSR platform and it just works, plain and simple. It requires very little maintenance, is super efficient, and is exceptionally durable. If you want a pick up and go magfed setup, pick up an EMF100 and have fun!
Click here to check out Amazon for current prices.
Click here to check Ebay for great prices on used guns.
Carmatech SAR 12
If you want a top of the line bolt action FSR tack driver, look no further than the SAR 12. This paintball gun is built for accuracy and is one of the smoothest bolt action guns you will be able to get your hands on.
Click here to check out Carmatech for current prices.
Click here to check Ebay for great prices on used guns.
PZ98 – Tippmann Magfed Adapter
The PZ98 adapter is a quick an easy way to turn your Tippmann 98 Custom, Alpha Black, or Project Salvo into a magfed ready paintball gun! Installation only takes seconds, just remove the stock feedneck and install the PZ98 in its place.
You can use any TiPX mags like the 7 or 12 round Tippmann Mags as well as the awesome ZetaMags.
This adapter is not FSR ready but feeds paint reliably and with issue. To learn more about them, check out my page for the full details by clicking here.
MAK – CCI Phantom and CCM Pump Paintball Guns
The MAK adapter is a great way to turn the ever reliable CCI Phantom into a magfed shooting beast! As an added bonus, paintball guns like the current CCM pump guns that have the same feed mount screw spacing will allow you to use the adapters as well.
The adapters allow you to use any TiPX mags like the Tippmann mags and Zetamags.
These adapters are not FSR ready but are super reliable roundball adapters. To learn more, click here to visit my page on the MAK for more details.
SellSwords Paintball Universal ZetaMag Adapter: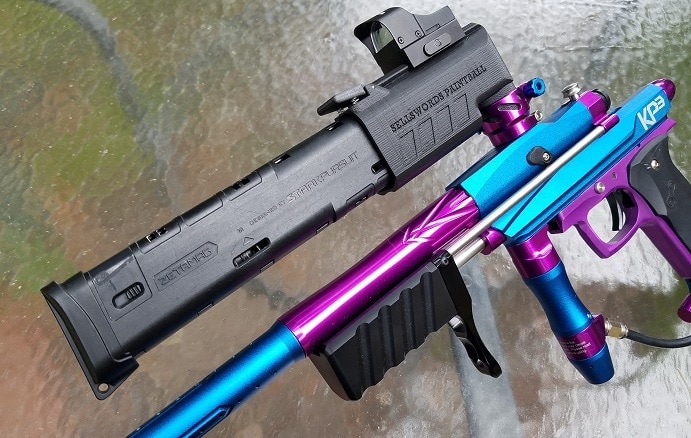 The SellSwords Universal TiPX Mag Adapter is a perfect way to turn any paintball gun with a standard feedneck into a magfed shooting beast! You can use both Tippmann TiPX mags and ZetaMags with no issue.
When paired with any standard electro with break beam vision, you get the added bonus of no blank shots when your mag runs dry. This way the other team won't know if your out of paint and you can reload and keep running.
This mag isn't FSR ready but lets you use your current setup in a magfed only game. I wouldn't trust optics mounted on the top as if you accidentally nudge the adapter left or right, your windage will be off.
To pick one up for yourself, check them out on the SellSwords website by clicking here.