Pump paintball gun builds are typically small and lightweight compared to a standard setup. These benefits can easily be thrown off with a big bulky air tank, so picking a small air tank for the setup is usually the best choice.
I have owned and used quite a few of the smaller tanks commonly found on the market and found that having a length similar to your other setups tank length is ideal. This way you won't have to adjust your natural point of aim too much if you switch back and forth.
Keep in mind that your pump configuration and desired length will ultimately be the deciding factor when picking up your tank. I will provide the length of each tank below and some key points on each one to help you decide what to pick up.
HPA Tanks
Most modern pump action paintball markers made today will use HPA as their preferred air source. They are easy to fill and are the standard for nearly every paintball field.
You can learn more about what HPA tanks are by clicking here.
9ci and 10ci HPA Tanks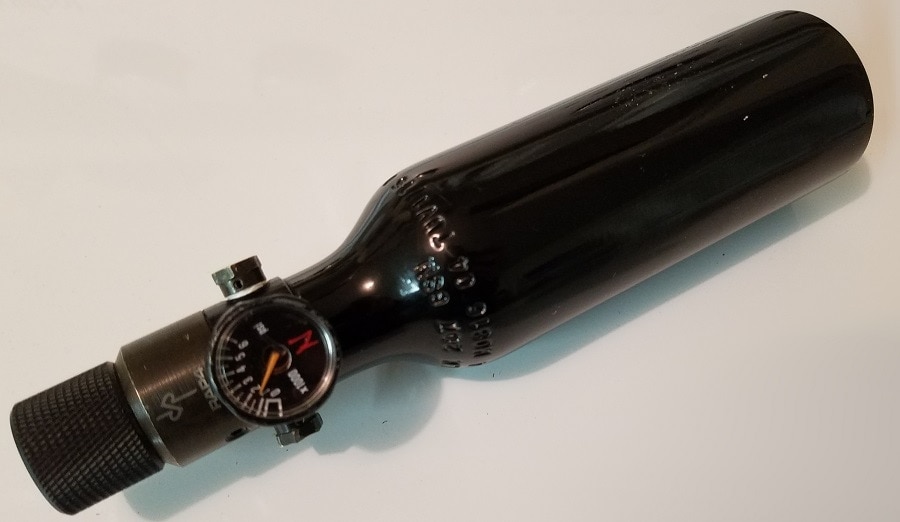 Typical length – 7.5 – 8 inches
Diameter – 2 inches
9/3000 and 10/3000 HPA tanks are going to be the shortest and lightest compressed air tanks on the market (not including CO2). They are perfect for those wanting a super short setup like they would get with a peanut tank or screwed into a vertical ASA configuration.
I would be weary of picking up any "off brand" tanks because of the low quality regulators they come with. Tippmann makes a pretty good 9/3000 tank and can be picked up on Amazon – https://amzn.to/38Okq6U
13ci HPA Tanks
Typical length – 9.5 inches
Diameter – 2 inches
13/3000 tanks are by far the most popular and easily found of the smaller HPA tanks. They are perfect for those wanting a light and compact setup without sacrificing too much air volume. If you are uncertain about what length tank you should get, start here.
There are a plethora of quality 13/3000 tanks on the market from nearly all of the major tank manufactures. My personal favorites are the ones from Ninja Paintball as they are easily rebuilt and have adjustable outputs. Otherwise, just about any other paintball company makes a great basic reg for their tank.
You can pick up the Ninja tanks with adjustable regs on Amazon – https://amzn.to/36Eevjp
If you want something with a standard reg, this one from HK Army is very competitively priced on Amazon – https://amzn.to/3152y5f
17ci and 22ci HPA Tanks
Typical 17ci length – 12 inches
Typical 22ci length – 13.5 inches
Diameter – 2 inches
17/3000 and 22/3000 tanks are a great option if you are looking for a long, but light weight tank for your pump. They can be a bit too long for some players preferences, but hold a considerable amount more air than the smaller versions above.
The main downside to these are that it can be hard to find a good one. Most of the ones I see available come with low quality regulators that will have to be replaced once they go bad or don't come with a reg at all.
Your best chance of finding one are finding them used on Ebay or forums like PBNation or MCarterBrown.
26ci HPA Tanks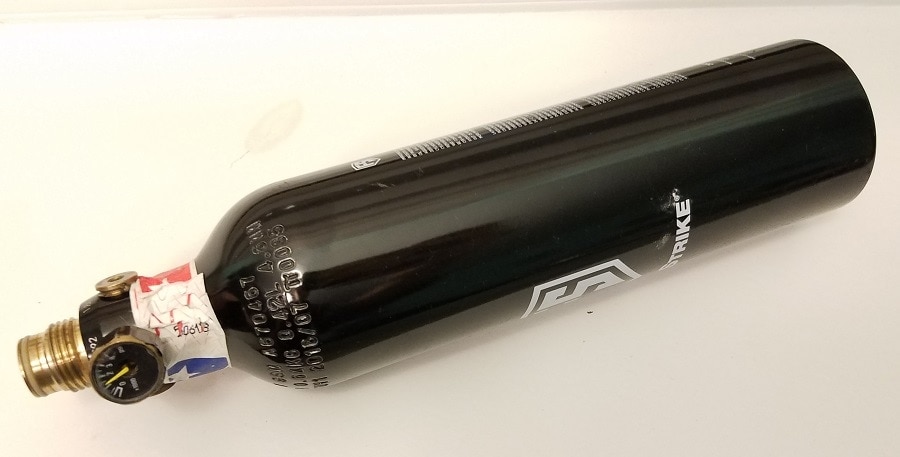 Typical Length – 11 inches
Diameter – 3 inches
26/3000 tanks have been my go to pump tank for pump and mechanical paintball setups. For me, they are the perfect length and I hardly ever have to refill them the entire day, which makes them perfect for large scale scenario events.
These tanks are the perfect balance and size of tank for those who don't want a super small tank but don't want to throw their 45ci or 68ci tank on their pump.
You can pick up two different versions of this tank, the longer version like the one pictured above or a stubby version that is just as long as a 13ci tank but wider.
Standard length tank on Amazon – https://amzn.to/37LvmlS
Stubby version on Amazon – https://amzn.to/2OcgwwS
4500psi Fiber Wrapped Tanks
Typical Length – 9.5 inches
Diameter – 2 inches
The First Strike 15/4500 tanks will be the smallest, lightest tank on the market and hold more air than similar sized 3000psi tanks!
They are not yet available and have an expected release date of June 2020. They boast a super light weight design, low profile regulator, and the ability to rotate the regulator without tools!
As an added bonus, they will fit any tank in stock design that a 13ci tank will fit.
Of course there is a downside compared to the above tanks, they are expensive with a price around $200
You can pick them up from from ANS Gear by clicking here.
CO2 Tanks
CO2 tanks were once the go to air source for paintball, but have mostly been replaced by HPA tanks. They may not be anywhere near as popular today, but there still a few benefits like simplicity and size that keep them around.
You can learn more about what CO2 tanks are by clicking here.
4oz CO2 Tanks
Typical length – 6 inches
Diameter – 2 inches
4 oz CO2 tanks are the smallest refillable constant air tanks you can find for paintball. They have a super small profile and have a high shot per fill ratio when compared to HPA tanks close to its size.
These tanks are a bit of a rarity today as not many manufactures make them for paintball and lots of people hold on to them as they are exempt from hydro testing. Some people have also been retrofitting the Soadastream CO2 tanks with paintball threaded valves at a very affordable price.
You will have to check the used market on Ebay or paintball forums like PBNation and MCarter brown for these tanks.
12 Gram CO2 Cartridges
If you want small, 12 gram CO2 cartridges are the way to go. These are the go to air source for stock class pump paintball setups and compact semi autos.
You will need a quick change adapter to use 12 grams on your paintball gun if it doesn't already have one built in. Most older pumps like the CCI Phantom and Sheridan PGP's are built for 12 gram use and usually come from the factory with a quick change or built in pierce pin. Depending on the marker, you can expect 20-30 good shots out of a 12 gram cartridge.
These are easily found at most online and box stores that sell outdoor shooting accessories. I usually pick them up in bulk to save some money.
I don't like to use Daisy or Crosman cartridges as they seem to be inconsistent with how much air they have in them and have lots of oil in them. If I can get them I will opt for higher grade variants like Lelands, Valken, and Umarex for a better face for the seal and better average shot per fill average.
12 pack CO2 on Amazon – https://amzn.to/317dfUD
25 pack CO2 on Amazon – https://amzn.to/36DLPXG
50 pack CO2 on Amazon – https://amzn.to/2vuAaxu
You will also need a decent 12 gram CO2 adapter. The cheap China variants are fine if you only plan on using them a few times, but the seals go bad quick. I personally like the CCI Bucket Changer and ICD lever changer and typically see them on Ebay and forums like PBNation and MCarterBrown.