A commonly overlooked piece of paintball gear are gloves.  Obviously, your mask is the most important piece of safety gear, but very few people think about protecting their hands.  Your hands make contact with your gear, the environment, an on occasion the paintball flying at you as well. 
If you don't have paintball specific gloves, some other great choices are baseball, football, golf, cycling, light weight gardening, weight lifting, and shop gloves. I would avoid using any thick gloves for cold weather, heavy duty gardening gloves, or heavy duty shop gloves as they are too thick and cumbersome to pull the trigger.
Different Types of Gloves
Some of the common types of gloves people use for paintball are fingerless gloves, shop gloves like Mechanix gloves, and of course paintball gloves.  If at all possible, purchase gloves that are designed for the sport of paintball as they have several key benefits that help make them more useful than your general-purpose gloves.
Fingerless and Gauntlet Style Gloves:
Fingerless and Gauntlet style gloves are your minimalist style gloves that just cover the palm of your hand. They are usually quite affordable and are commonly available at most hardware stores. These gloves are great for those who want to get into paintball and protect their hands without dropping a lot of cash.
Basic fingerless glvoes can be found at most sporting goods stores in the golf, weight lifting, cycling, and action sports sections.
Pros:
Cheap, they can fit most any budget
Some come with padding or armor on the back
Maximum finger dexterity when manipulating your gear.
Can be found most anywhere and are easily replaceable.
Cons:
Fingers are exposed to the field and incoming paintballs
Sometimes are cheaply made and don't last too long 
Versions with the elastic around the wrist instead of an adjustable strap can cut off circulation.
Sports, Shop and Work Gloves:
Sports and Shop Gloves are widely used for paintball as they are commonly available at a plethora of stores. They are quite popular primarily for their full finger coverage and great price point.
You can find these gloves at almost every major retailer and your local hardware and automotive stores.
Pros:
Affordable prices
Different styles with more padding on the back of the hand
Durable construction
Cons:
Very little dexterity, especially on the versions with reinforced pointer and thumbs.
Can get quite hot
Paintball Specific Gloves:
Gloves designed for the sport of paintball are your ideal choice if you wish to hit the field with a pair of gloves. They offer various options to fit the needs of the player ranging from added protection in key locations to microfiber cloths built into the thumbs to wipe off splatter.
If you don't have a paintball store near by, sometimes you can find them at big box stores like Dicks Sporting Goods, Bass Pro, and Academy Sports. Otherwise, you will have to shop online at some of the major outlets like Amazon, Ebay, ANSGear, and Paintball-Online.
Pros:
Designed specifically for paintball
Medium to High dexterity
Built in options specifically for paintball like extra grip on the palms and fingers, microfiber cloth on the thumbs and breathability
Very comfortable
 Cons: 
Can be expensive
Not as commonly found, usually found in a paintball shop
Some versions are not very durable, do some research beforehand.  
My Top 3 Glove choices for Paintball
During my nearly 20 years of playing paintball I have used and abused dozens of gloves ranging from your cheap fingerless gloves all the way to tournament grade paintball gloves. Not all gloves are made the same and after destroying hundreds of dollars worth of gloves, there are a select few favorites that I commonly recommend to players looking to pick up a new pair.
Exalt Hardshell Paintball Gloves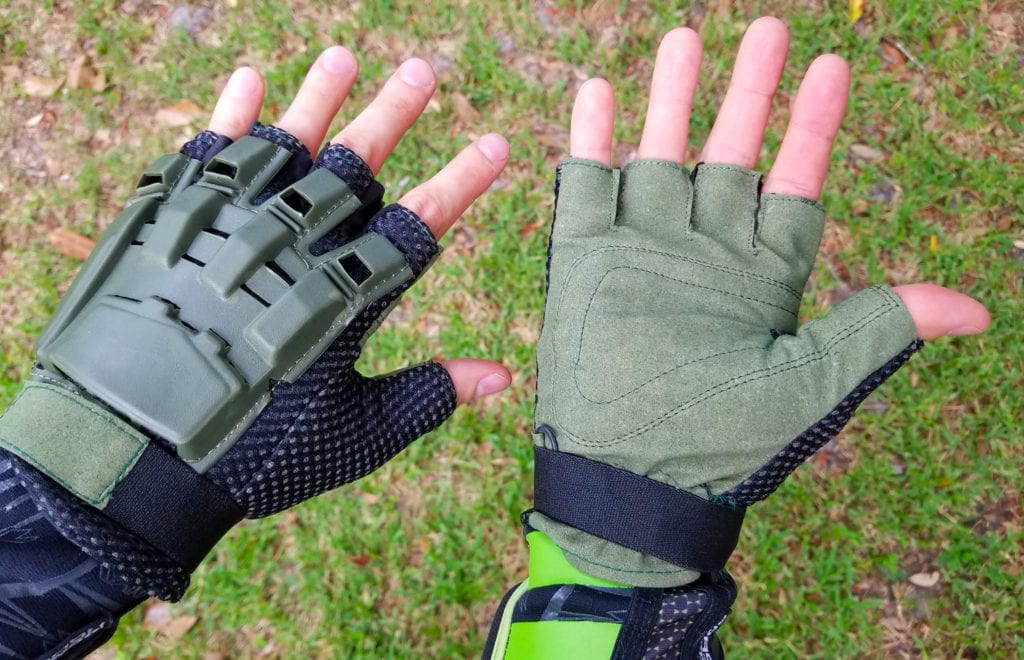 These may not be the fanciest paintball gloves, but they offer three significant benefits – excellent protection, great dexterity, and are very affordable.

The back of your hand is covered by a stiff plastic plate that protects your hand from any pain while still giving a good range of movement. This pair also has an adjustable strap around the wrist to ensure a comfortable fit.

At the price that the Exalt Hardshell gloves go for, they are a great option for those wanting to get into paintball.
They can be found for a great price on Amazon and I see them frequently going on sale! Click the link for current prices – https://amzn.to/2RHYe76
Mechanix M-Pact Tactical Gloves
In terms of durability and hand protection, The Mechanix M-Pact Gloves are hard to beat. While wearing these gloves, I have been point blanked in the back of the hand and shot between the fingers. Not once did I feel any sort of pain but just registered something hitting the back of my hand.

The only real downside of these gloves are the limited dexterity and breathability compared to your standard paintball gloves. However, if you get the Tactical M-Pact gloves some of the dexterity loss is reduced compared to the standard version. Plus the Tactical series gives some extra grip on the pointer finger and thumb.

The gloves pictured above are the standard M-Pact versions that you can pick up at a hardware store, the only thing I really didn't like on these gloves were the thick leather on the index finger and thumb. It just made it harder to manipulate my gear like pods and sometimes the trigger. Opt for the tactical version for a bit better dexterity.
I found that you can usually pick these up cheaper online and with more verity than at your local shop. Check out Amazon for the best prices – https://amzn.to/2XxDDrF
HK Army Hardline Paintball Gloves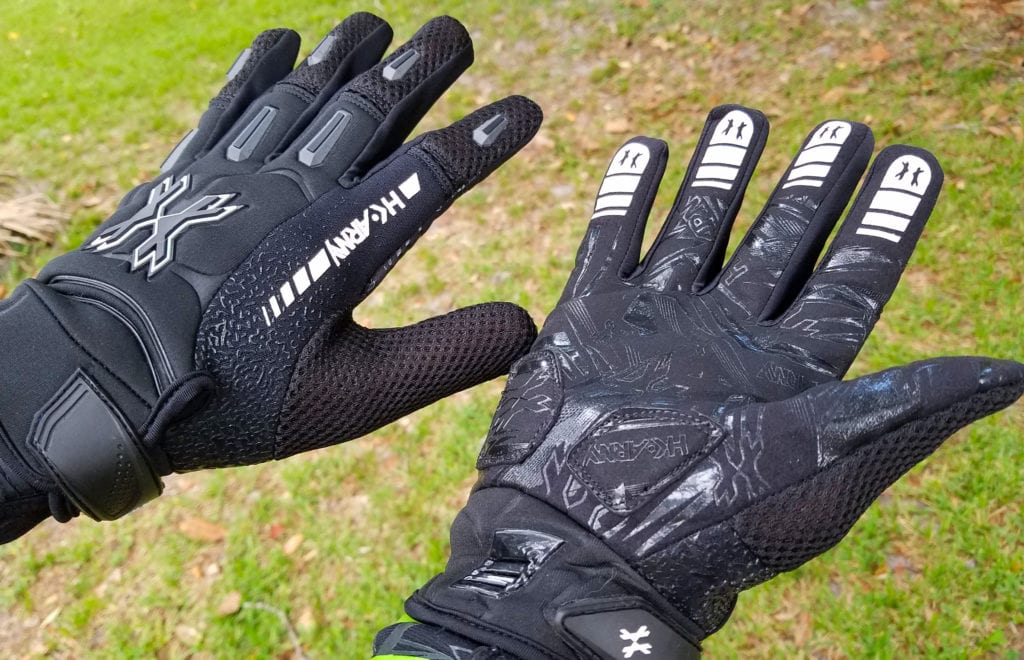 These are my go to workhorse gloves and I absolutely love them. The Hardline gloves are super comfortable to wear and don't get too hot even in the Florida heat. They have an ample amount of mesh around the thumb and the back of the finger tips to help keep your hands cool.

My favorite things about these gloves are the quality of the extra sticky grip on the palms and the extra padding on the back of the hands. Even if you get hit in the hand, you feel no pain from the paintball. As an added bonus, there are extra pads on the palms of the hands to help protect your hands during slides and dives.

The pair of gloves I have now have lasted me for over a year of scenario events and recball with no signs of wearing out any time soon. Even the Velcro is in great condition and doesn't come loose on the field. Matter of fact, I like them so much that I went and purchased 5 more sets for the next several years!

They also come in some really cool colors too! My wife's last set of gloves finally wore out as well, so we replaced them with her own set of Hardline gloves and she really likes them as well!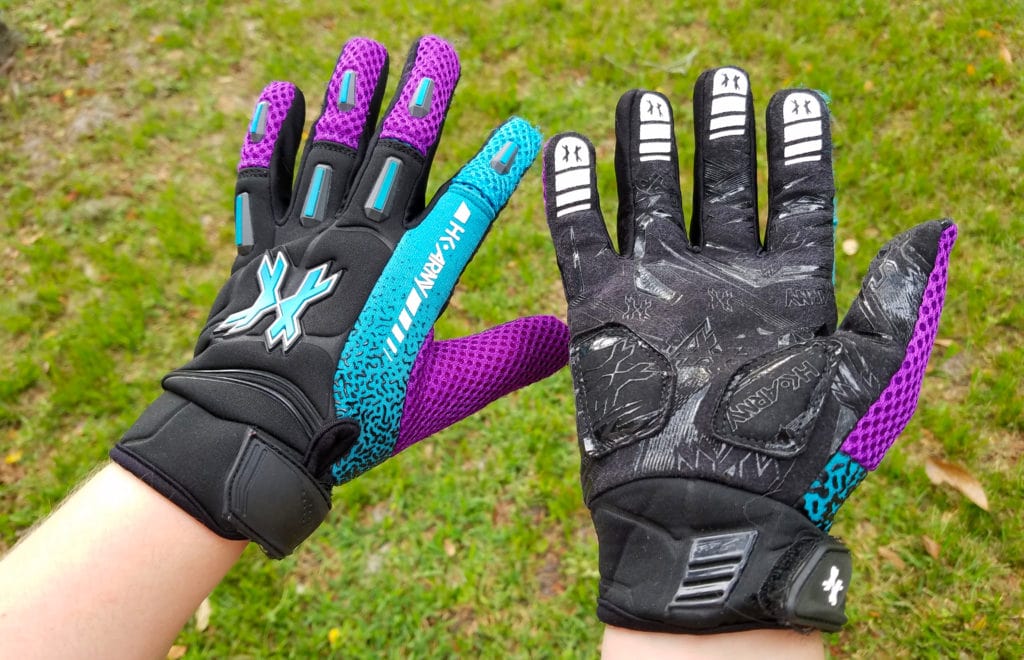 If you wish to pick some up yourself, Amazon has them for a great price, so check out link to order a set or five! – https://amzn.to/2XitTlN
Gloves to avoid
Not all gloves can be winners and I have also used some gloves that just completely failed me.  I expect my gear to keep up with me and am no stranger to doing minor repairs to my gear after a hard weekend of play. But some gloves just aren't worth it.
Latex Gloves
Latex gloves are not ideal for outdoor activities like paintball for several reasons. First and most importantly, they don't allow your hands to breath properly and will just be bags of sweat after the first game. Plus, they have very little durability and can easily tear becoming useless after the first game.
The thicker latex gloves aren't any better as they can severely limit your dexterity and make it harder to manipulate the trigger.
Thin Felt and Nylon Gloves
Besides offering little to no protection, they just don't last on the field. They may be super comfortable but after the first few games you may have big gaping holes in the palms of your hands. After a while, your fingers and palms may be completely exposed and destroying your gloves.
Cheap China knockoff leather like gloves
Cheap China gloves that are made with fake leather are fine at face value, but after using them for a day you get the dye they used on the pleather rubbing off on to your skin.  I personally don't like that the palms of my hands stained a different color with an unknown dye, so for general health concerns I stay away from them.

The quality on them are also a hit and miss, even within the same model from the same vendor. Some of you may get lucky using them, but I would personally just pass them up.
Paintball Glove Review Video
For a more in-depth overview of some gloves themselves, I made a little review video showing how the gloves fit and some other personal opinions on them.