Playing paintball can be messy and getting hit by one can sting a little, but by wearing the right clothes you can reduce any pain felt and make sure you aren't going to get your favorite clothes dirty.
While paintballs do wash out of clothes, some of the darker colored pigments may stain clothes or the field itself my add dirt or grass stains. This makes it ideal to wear old clothes you don't care about or pick up clothes just for playing paintball.
For most beginners, you will want to leave as little bare skin exposed as possible to avoid direct paintball hits as they can sting quite a bit. But by wearing long sleeve clothes, gloves, and a hat you can reduce any pain felt and have a more enjoyable game.
Here are what most people wear to play paintball for the first time:
Paintball Mask/Goggles to Protect your Face (This is Mandatory)
Old Hoodies and Sweaters to Protect your Body and Arms
Thick Baggy Pants Like Blue Jeans or Cargo Pants
Hats, Beanies, and/or Headbands to Protect Your Head
Gloves to Protect Your Hands and Fingers
Athletic Shoes to Prevent Slipping While Running
Jumpsuits and Coveralls for Full Body Protection
If you are worried about paintballs hurting, you can wear layers to create extra padding. Most players will only wear one layer of clothes as it will be enough to protect the skin and not cause you to overheat.
For players playing in the heat, they may want to forgo any layers and just wear a basic shirt and shorts to keep their body temperature regulated. If you want to read more about playing paintball in the summer heat, check out my article linked below:
https://www.paintzapper.com/paintball-in-the-heat/
If you need some examples of what many people wear to a paintball field, I have some detailed pictures shown below.
Paintball Clothing Examples
There are many different ways that people will dress up for paintball and it will usually vary from experience level and how often they play.
Most beginners will not have any paintball gear at all and may find themselves not knowing what to wear. Thankfully you will probably already have some old clothes to wear and all the playing gear you will need can be rented out at the field itself.
So lets look at several different clothing options for paintballers.
Basic Beginner Paintball Clothes
The most basic and commonly worn paintball clothing at just about any paintball field is a simple sweater with pants. Just about everyone will have an old sweater, pair of paints, and an old set of shoes to wear to the field that they don't mind getting dirty.
Lets go over each one in detail so you know exactly what to look for when picking out the right clothing options.
– Old Hoodie or Sweater
One of the best clothing options for any beginner who is just getting into paintball is an old sweater, or even better, a hoodie. Since they will typically have long sleeves and are made a little thicker than a shirt, they will help reduce the sting of a paintball hit and cover most of your torso and arms.
If you have an old hoodie, these will work even better as you will also have a hood to pull over your head that will offer you some head protection and have a pouch or pockets on the front to carry extra paintballs.
– Baggy Pants
Wearing pants is ideal for both protecting your legs from paintballs and the environment around you. If you want, you can wear shorts if it is too hot but it is best to wear pants.
You can wear loose fitting canvas pants, blue jeans or regular cargo pants for paintball. If you wear skin tight pants, they may restrict movement while running and wont help slow down the paintball some before it hits your legs.
– Gloves
One of the most common places to get hit with a paintball is on your hands or fingers. This is easily solved by wearing simple shop gloves that you can get at the hardware store. If you want to maintain some finger dexterity, pick up some tighter fitting gloves or fingerless gloves.
– Hats or Beanies
If you don't have a hoodie, you can protect your head a bit more by wearing a hat backwards or using a beanie. This way, if you take a hit on top of your head, the sting is reduced. Wearing a hat or beanie has the additional side benefit of helping your mask fit better and more comfortable to wear.
– Old Shoes
Picking the right shoes will be important for any high activity sport. For paintball, you will need shoes that fully cover your feet and will provide enough traction so that you don't slip.
Paintball Jumpsuits and Coveralls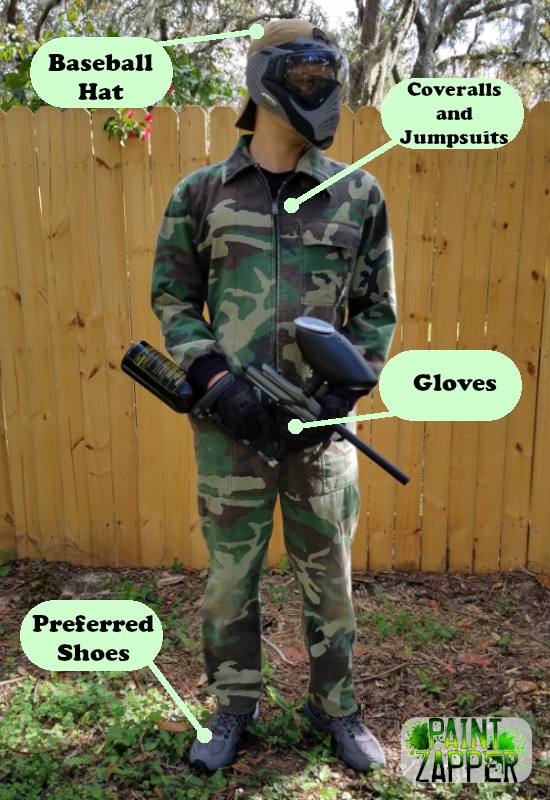 If you are looking to cover yourself from head to toe and quickly switch back to more comfortable clothes when off the field, wearing a thick jumpsuit or coverall will get the job done.
Some paintball fields offer these as rentals or just have them available on a first come basis. Check with your local field before buying one if you feel like you may want one.
What Pro Paintball Players Wear
Professional paintballers and experienced paintballers alike will primarily use clothing and padding designed specifically for paintball. These clothes will typically be more durable, have padding in key locations, and have ventilation built into the clothing to keep the player cool.
Anyone who is serious about playing paintball will have clothing that they set aside just for the field, lets go over the most popular options below.
– Paintball Headbands and Head wraps
Many paintball players will typically want something to protect their head from direct paintball hits, and the most popular items in the paintball community will be headbands and head wraps.
Both of the headbands and head wraps that are made specifically for paintball will typically have padding in the front and help wick away sweat so it doesn't roll down your eyes behind your mask.
My personal favorite option is the Dye Head Wrap as they not only provide head protection, but have a mesh to cover the rest of your head and neck to help prevent dirt and paint from getting in your hair. I have 3 of them as people keep asking to borrow one from me. You can pick them up on Amazon for a great price by clicking here.
– Paintball Shirts and Jerseys
Most players like myself will have some paintball shirts that they use specifically for paintball or purpose made paintball jerseys that provide padding in the arms and chest with extra ventilation under the arms and on the back.
You can even get these jerseys custom made with your own designs or with pre made designs and just adding your name on them. My favorite place to go for custom made paintball jerseys is Social Paintball as their customer service is top notch and they make a quality product.
– Paintball Elbow Pads
One of my favorite paintball padding options are the elbow and forearm pads that are specifically designed for paintball. These not only protect your arms from paintballs but are perfect for protecting your elbows from the ground when you are sliding and crawling on the field.
Some of the best paintball padding comes from Exalt Paintball as they are rugged, very well designed, and don't slide around on your arm. You can pick them up on Amazon by clicking here.
– Paintball Gloves
If you want to protect your hands and fingers from both paintballs and the environment, paintball gloves are the best option. Not only are they designed to be comfortable, but paintball gloves have padding on the back of the hands and fingers as well as rubberized grips on the palms to both keep your hands protected and your gear in your hand.
For quality and comfort, Exalt Paintball makes amazing gloves that just last and come in a variety of different styles to match your budget and needs. You can check them out on Amazon by clicking here.
– Paintball Pants
Paintball is a highly active sport that requires lots of running, squatting, crawling and kneeling so you need pants that allow for a full range of motion and also provide padding in key locations. This is where purpose made paintball pants stand above all other options.
Some of the key features you will find in paintball pants are built in knee, shin, and groin padding to protect you from both paintballs and the ground. Plus, these pants have strategically placed elastic fabric and ventilation to both allow full range of movement as well as keeping you cool while playing.
Two of my favorite paintball pants are Social Paintball Grit V3 Pants and CK Fight Life Paintball Pants as they are both made with exceptional quality and with thought behind every feature. Both my wife and I use these pants for all of our paintball outings and have found them to be the best out of the dozen other pants we have used in our combined 40 years of playing.
– Athletic Shoes and Cleats
Each player will have their own prefered type of shoes they wear for paintball, but the vast majority will wear running shoes, hiking shoes, or cleats.
The primary goal is to use a shoe that doesn't let you slip while running but still gives you a full range of motion to sprint, kneel, and crawl on the field.
Paintball Body Armor and Padding
For those of you who want some extra padding to dampen the impact of a paintball, there are plenty of options available to you.
Ideally, paintball armor and padding should be soft and flexible as the sport requires its participants to quickly move around without restrictions. While hard armors will nearly eliminate any pain, you will start to suffer from restricted range of motion and added weight which will slow you down.
Here are some of the best options for choosing any paintball padding or armor.
– Beanies and Headbands
If you are going to protect your head from paintballs, the two best options are using a thick beanie or a paintball specific headband. Both will had added padding to help reduce any pain from a paintball to the head and is worn by the vast majority of players.
You can just pick up a beanie from most clothing stores in a wide variety of styles and colors (including silly ones pictured above). If you are looking to pick up a paintball specific headband, check out Amazon for a massive variety by clicking here.
– Padded Shirts and Vests
I have used quite a few different padded paintball shirts and vests over the years and have found the best ones were the compression fit padded shirts as they properly contour to your body and have padding in all the places you need them.
My absolute favorite padded paintball shirt is the HK Army Crash Chest protector as it has plenty of padding on the chest, back, and arms, is moisture wicking, and is comfortable to wear. They do run small, so pick up a size smaller than what you usually wear. You can pick up yours on Amazon by clicking here.
– Elbow Pads, Knee Pads, and Gloves
For players who like to slide, crawl, and get low to the ground while playing paintball, elbow pads, knee pads, and gloves are a necessity. While you can use the typical shop elbow pads, knee pads and gloves, they have a tendency to slide around on you while playing or limit your full range of motion..
Paintball specific pads and gloves are designed to stay in place while running, jumping, and crawling on the field which is extremely important so you don't have to constantly fix them while in the middle of a game. Plus they protect you from the environment and ground so you reduce the chances of any bruises or scrapes.
Some of the best padding and gloves are made by Exalt Paintball as they are made to be durable and have padding in all the right places, all at a great price. You can pick yours up on Amazon by clicking here.
– Sliding Shorts and Athletic Cups
For many players who will be sliding on the ground or many players afraid of getting hit in the groin by a paintball, you can pick up sliding shorts that have the option to have an athletic cup. This will help keep your hips and groin protected from any pain from getting hit or sliding on the ground.
I personally use baseball sliding shorts but there are some really cool paintball specific slider shorts with all the padding you will need for a great pice. You can check them out on Amazon by clicking here.
Paintball Chest Protectors
Some of you may just want a simple and cheap chest protector for your kids or if you are a lady, thankfully there are quite a few affordable options as well like this one on Amazon. These are typically "one size fits most" and may be a little less comfortable than a padded shirt.
Also, you may be able to simply borrow one from the paintball field you are going to so give them a call before you purchase one to see if they have any available.
Proper Paintball Footwear
One of the biggest mistakes many new players make is wearing the wrong type of shoes to play paintball in. If you use a shoe that doesn't fit properly, doesn't stay on your feet while running, or is too smooth on the bottom, you can slip and hurt yourself while running around.
Most players will typically use a basic running shoe or basic athletic shoe for playing paintball. While this is fine, these shoes aren't designed to provide much traction on softer grass or soil and you may slip and fall.
The best shoe options for paintball are typically trail running shoes, soccer or football cleats, hiking shoes, or even combat boots. All of these types of shoes are designed to provide the players with more traction when running on soft soil or grass to prevent slipping and allowing to the player to freely move.
The only type of shoe I will provide a warning to is using cleats. If you are playing on a more urban field where you will be walking on paved roads, walking around inside buildings, or walking across wooden bridges, cleats may actually cause you to slip and fall as it isn't a surface they are designed for.
In most clases, trail running shoes and hiking shoes are going to be your best shoe options as they are considered to be all terrain from grass to rocks so the player can just focus on the game instead of where they are stepping.
More Paintball Tips
If you are new to paintball and want more tips and tricks, check out these articles to help improve your game!
https://www.paintzapper.com/category/tips-and-tricks/