3D printing paintball parts has become extremely popular, especially with newer 3D printer and filament technology.
3D printed paintball gear allows any player to fully customize their paintball gun to an unlimited number of different configurations. By using quality 3D printer filaments like ABS, PETG, and nylon, anyone can make quality accessories that are durable enough for paintball.
Can You 3D Print a Paintball Gun?
You can 3D print most any accessory for a paintball gun with the exception of sections that are meant to hold air.
Due to fact that 3D printed plastic can't contain high pressures without rupturing or leaking, you can't completely 3D print a paintball gun. However, you will be able to 3D print the majority of the paintball gun (frame, barrel, body) that doesn't hold air. Some of the internal parts like the hammer, springs, and hoses will also need to be made of the appropriate materials in order to safely function.
You can find plenty of paintball guns on the market (like the Planet Eclipse EMEK) that you can replace the GRN body with your own custom design as all of the high pressure parts are contained in an aluminum body. This allows you to make some really unique setups.
Places to Find Free Paintball Files
There are quite a few different places that people post the files they have made for everyone to use. These are great if you are looking for some cool paintball parts and have access to a 3D printer.
Here are a list of great 3D print file repositories that you can download files from and make your own paintball parts for free for for a reasonable price:
Paintzapper.com is not responsible for what files you download. All files downloaded by you are at your own risk.
3D Printed Paintball Hoppers
If you are looking for a custom made paintball hopper, look no further than Paintball DNA!
Paintball DNA makes several different types of hoppers from stick feeds to motorized hopper shells. You can even get your own logo added to the sides of the hopper!
Pick up yours on their website here:
https://paintballdna.com/
3D Printed Tactical and Magfed Paintball Gear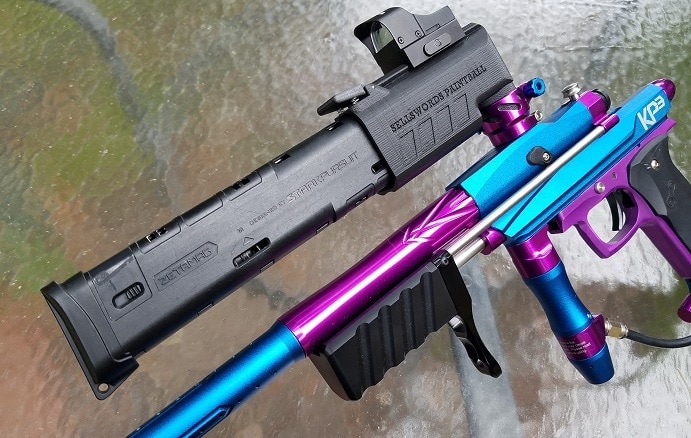 If you are looking for magfed adapter, paintball gun upgrades, or other various accessories, there are quite a few different choices to pick from!
Here is a list of different vendors who make 3D printed magfed, milsim, and other paintball accessories:
3D Printed Camera Mounts for Paintball
If you need a cheap and light weight camera mount for your mask or paintball gun, the best place to find them are on Shapeways. They offer a wide variety of different choices and some are specially designed to fit certain masks.
If you are looking for mounts for the Runcam2 cameras, the best ones on the market are made by Brain Exploder as they are ridged and attaches directly to your picatinny rail.
My Favorite Places to Hire a 3D Printer
If you don't have access to a 3D printer, there are quite a few places available that can make bring your designs to life!
If you want to find someone within the paintball community, places like facebook and mcarterbrown.com are perfect places to go and find someone who may be willing to print your design for you.
If you want more options, you can check out websites like treatstock.com which host many different individuals and companies who are available for hire.
Some of my favorite places that I use frequently are Baysinger's Additive Manufacturing for standard FMD printing services and Jawstec for SLS and MJF prints with nylon.
People to Hire to Develop Custom 3D Printed Paintball Parts
If you need paintball 3D CAD design services, it is usually best to stick to the paintball community as they have more experiences in how the parts need to be designed. Feel Some of the best places to look are on facebook and Mcarterbrown.com for competent designers.