I have used, and been shot by, plenty of paintball guns over the past 20 years, and can tell you that the term "sniper" refers to more than just the looks of the gun itself.
As paintball continues to evolve with new technology and more options available, the roll of the paintball sniper has changed as well. Today, we have better equipment, First Strike Rounds, and specialized barrels providing us with more options as a player
The roll of the paintball sniper is no longer limited to just stealth, sabotage, and ambushes. We now have specialized paintballs, called First Strike Rounds, that provide more range and accuracy. This gives a paintball sniper the ability to engage opposing players well beyond the range of a regular paintball. This alone can provide a major advantage and swing the tide of a game.
Below I will cover what features to look for when picking your sniper platform and my top pics for what is currently available on the market.
What To Look for In a Paintball Sniper Setup
There are a lot of options available today when it comes to paintball guns. Any paintball gun will allow you to play the basic rolls of a sniper, but only a few will provide exactly what you need for precise, long range eliminations.
When looking for any sniper platform, I need it to be reliable, shoot consistently, have the ability to use First Strike Rounds, and have options to attach optics or a stock.
Reliability
First and foremost, your primary concern for any paintball gun should be reliability. If it doesn't work, you won't be able to use it on the field!
I have seen quite a few players on the field have to resort to their backup gear or their sidearm instead of their main paintball gun. This can become even more frustrating if your gear fails you right in the middle of a firefight or fails to work when you try to test it before the game even begins.
Try to pick up a proven paintball gun that requires general maintenance to keep running. You shouldn't have to carry tools and parts on to the field to keep playing or spend half the day fixing your gear.
Consistency
When you are using high quality paint with no external flaws and a quality barrel, the deciding factor on accuracy will be your shot to shot consistency. If your shots are varying +/- 10 feet per second (fps) or more, then your range and y axis accuracy will vary with each shot.
Most modern paintball guns today will come out of the box around +/- 5 fps on average. Sometimes you will have to break in the paintball gun by shooting it a bit, giving you better consistency and efficiency after some use.
First Strike Round Compatibility
Compared to paintball guns of the past, we now have the ability to shoot a true sniper round called the First Strike Round (FSR). FSR are shaped projectiles with stabilizing fins to help increase range and accuracy well beyond the capabilities of a regular paintball.
If you want to out shoot the competition, FSR is the way to go. On average you will get about twice the range and 10 times the accuracy compared to that of a regular paintball.
Using a rifled barrel designed to work with FSR makes your shots even more accurate as they apply a spiral rotation to the round, similar to throwing a football.
Attachment Options
Of course, if you want consistent accuracy over long ranges you will need the ability to attach some sort of an aiming device.
This is where a true sniper platform will separate from your traditional, sleek paintball guns. You can use your sniper setup without any sort of aiming device, but for precise one shot eliminations, a scope or red dot sight will keep you on target without shooting a lot of paint.
Plus, you may want other attachments or stocks to complete the look and feel. I personally like mine a bit more simplistic in design but am always impressed by other players custom builds.
Best Paintball Sniper Rifles
There are plenty of paintball guns on the market, but most of them will shoot like every other gun. You want your sniper paintball platform to shoot reliably out of the box, maintain good consistency, shoot FSR, and have the ability to add some sort of aiming device.
Here are my absolute favorites that will let you tag your targets before they even see you.
Planet Eclipse EMF100 (MG100)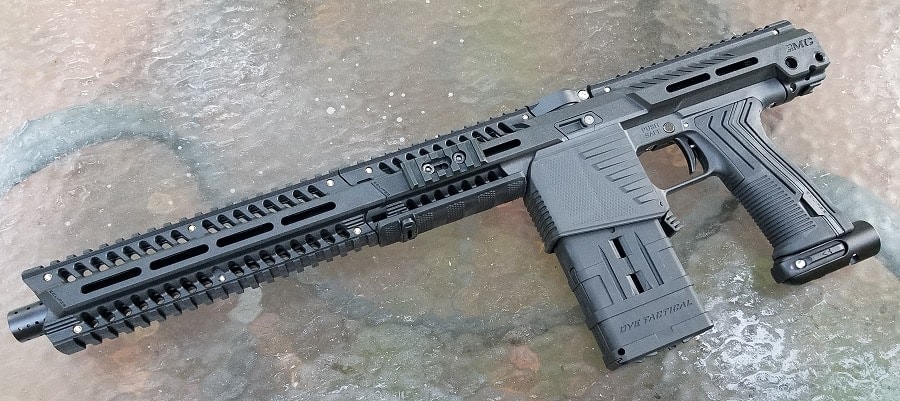 The Planet Eclipse EMF100 is by far the best all around paintball sniper rifle on the market. The EMF100 comes out of the box with extreme reliability, super consistent shots, smoothly shoots FSR, plenty of room for mods, and is available at an affordable price!
You get a nice, low pressure bolt system that is very efficient and requires very little maintenance. I literally shot mine for 6 months straight after buying it and never opened it up once. I dare you to find another magfed paintball gun that can do that with zero issues.
The only real complaints that I hear from people is that it isn't a direct copy of modern firearms battery of arms and has a GRN outer shell. In my 20 years of playing paintball, neither of these have made a paintball gun better.
The body and frame are extremely durable and you won't ever have to worry about scratching any anno or seriously damaging the gun. Plus, as we are wearing a paintball mask, having a stock in your face simply doesn't work. To put it as plainly as possible, this magfed paintball gun was made to play paintball and blows every other marker on this list out of the water.
You can pick up yours on ANSGear.com as well as any extra mags or accessories you may need by clicking here.
If you are looking to save some money, Ebay is a great place to find used gear at a great price, click here to see what is available.
Valken M17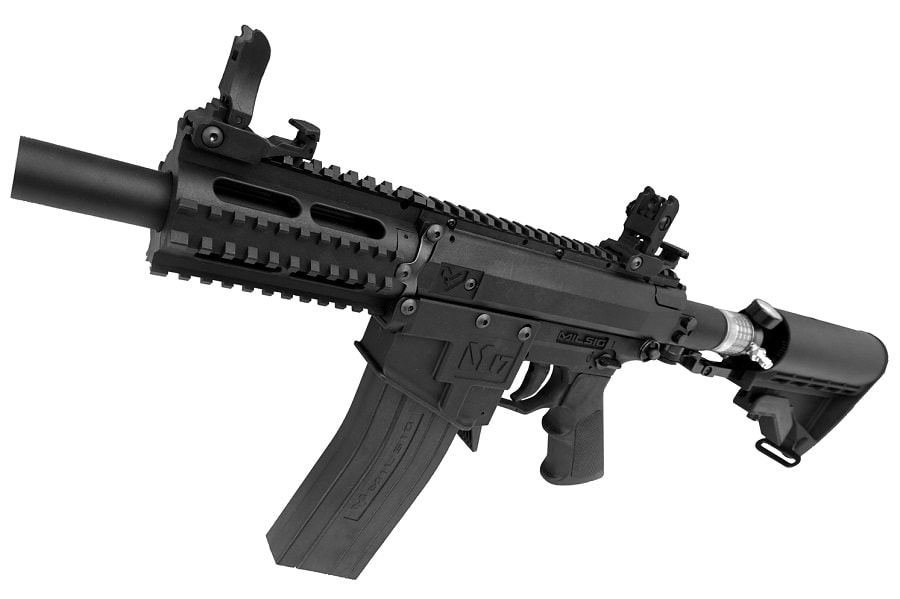 Milsig use to make the M17, but when they decided to call it quits Valken decided to continue making the paintball gun instead. I am very happy that they decided to continue making the platform as it is a great entry level magfed paintball gun.
The M17 has a very familiar feel to those who have handled any real steel M4 or M16 rifles and point almost exactly the same as the real thing. You can even attach a lot of the similar furniture on the M17 that you would on the real firearms, making it quite customizable and easy to get use to using.
One of the coolest things about the M17 is the ability to shoot both semi auto and full auto without the need for any electronics. This allows you to quickly and easily switch over from making precision shots as a sniper to full auto FSR suppressive fire with a flip of a switch.
Some of the things that you may run across is that the gun is slightly inconsistent and inefficient until you break it it in with several hundred to a thousand rounds. Plus, you will want to do a complete cleaning and oiling after each game to make sure it will be ready to use before the next day.
You can find these for a great price on ANSGear.com as well as any extra accessories you will need to get going. Click here to see what they have available.
If you want to save some money, Click here to check out Ebay for some killer deals!
First Strike T15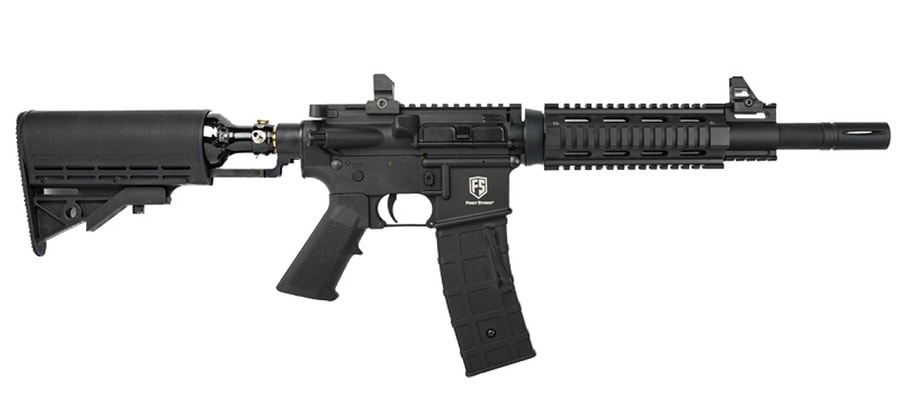 For a true 1:1 paintball platform, the First Strike T15 is the absolute best option on the market. You wont find a better 1:1 paintball platform that shoots as well as the T15 out of the box.
The T15 has an all aluminum body with beautifully detailed features that actually function like the real thing. After running around with one of my friends T15, I can tell you that it feels like running around with the real thing.
First Strike has also released the full auto drop in upgrade kit for the T15 that allows you to change from semi auto to full auto with a flip of a switch. With the ability to shoot FSR right out of the box, this is an ideal candidate for a dedicated sniper platform.
Just like most magfed paintball guns, it is highly beneficial to do routine maintenance after each day of use to make sure your T15 is in ideal condition for the next big game.
One of the things I wasn't very happy about was the choice of barrels for these guns. You can purchase a barrel adapter, but have never liked using adapters to attach my barrels. Reguardless, you can shoot dead on with most barrels and just performs right out of the box.
The best place to buy them is on ANSGear.com as they have a massive selection of configurations and accessories, click here to see what they have.
You can also find them on the used market for a steal of a price on Ebay, click here to see what is available.
Dye DAM
The Dye DAM was the original high end magfed paintball gun that combined all the features of a tournament level speedball gun that can deliver shot on shot accuracy with FSR. If you want all the features in one package, the DAM is the way to go.
I had the privilege to use one when they first came out and even today, it is leaps and bounds above every other FSR capable paintball gun on the market.
You get all the features of an electronic paintball gun like firing modes and anti-chop vision to prevent breaking paint in the barrel. The Dye DAM is easily to field strip and clean with no tools and have the advantage of the low pressure bolt system for consistency and air efficiency.
Of course, all these features are great, but they do come with a steep cost to your wallet. They usually run around $1500 new and I have seen them go for no less than $800 for a decent setup. This being said, if you want the best of the best at any cost, the DAM has you covered.
ANSGear.com has the absolute best sellection for colors, parts, and complete setups than anyone else. Click here to check out their selection of Dye DAMs.
To save some money, check out Ebay for some great prices on used setups by clicking here.
Carmatech SAR 12
If you want the absolute best platform for those one shot eliminations with FSR, the Carmatech SAR 12 is by far the best bolt action paintball sniper on the market. You will have a hard time finding a more accurate, purpose built FSR thrower than this beast.
This is an all metal construction, purpose built, paintball sniper rifle that just performs. It is a simple design but with devastating accuracy, making it perfect for someone who wants to make easy eliminations at range.
It comes, out of the box, ready to shoot FSR with accuracy. They come stock with a rifled barrel designed to shoot FSR with absolute prcision. You can buy them with the amazing Carmatech Supremacy scope or without so you can use your own preferred optics.
The main downsides are that these are over $1000 new from the manufacture, on the long side, and are a bit heavy to lug around for a long period of time. That being said, this is the best bolt action sniper on the market today.
You can pick yours up directly from the manufacture by clicking here to go to the Carmatech website.
Sometimes you can find them on the used market for a bit cheaper on Ebay, click here to see what is available.